THE HISTORY OF MY ICELANDIC ANCESTERS
ON THE HORNSTRANDIR, ICELAND
( ON MY MOTHERS SIDE OF THE FAMILY )
| | |
| --- | --- |
| The picture above is my Great Grandfather Palmi Jonsson, and His second wife Olafia Einersdottir, Grandparents Gudmundur Palmason and Ketilridur Porkelsdottir and children, taken at home in Rekavik bak Latur, Hornstrandir, north western Iceland in about 1912?. | |
| Iceland Roots - a thousand years of ancestry | www.buskerbrian.com |
| | |
| --- | --- |
| (1) Gudmundur Gudmundsson, born in 1761 Midfirdi Iceland, died, 8. Dec. 1847. Married Hildur Olafsdottir born in 1750, died, 17. Feb. 1833, a farmer in Pverdal, Hornstrandir Iceland. Gudmundur was Hildur second husband her first husband Bjorn Jonsson, who died in 1788. | |
| The Laki volcanic eruptions of 1783-84 | |
| This story starts when Gudmundur, with his friend Bjorn Jonsson, the first husband to his wife Hildur, moved to Latrum, Adalvik, Hornstrandir, North western Iceland, in about 1785/86 from Midirdi. In the late spring of 1783, the greatest natural disaster to hit Iceland in modern times, began when the terrible volcanic eruptions at Laki, in the southeast of Iceland, broke out. I do wonder, but I don't know for certain, that this could be the main reason they moved from Midirdi, to the Hornstrandir, North western Iceland, was because the area is rich with wild life a food source, and was one of the least affected areas by the terrible Laki volcanic eruptions (1783/84). Another reason was the winds carried the ash and toxic gas south eastward towards the rest of Western Europe. Laki is a huge volcanic rift to the west of the vast glacier Vatnajokull in the southeast of Iceland. The Laki volcanic eruptions began on the 8 June, 1783, and lasted until February the following year. A gigantic quantity of glowing lava tumbled from these craters in the highlands and down to the lowlands where it spread and eventually covered an area of 565 km, creating the largest lava field in historical times. Numerous farms were damaged or destroyed and people in the region fled in panic. Accompanying the eruptions, toxic gas filled the air. It poisoned vegetation, eventually killing off the animals. An intense shortage of food followed, bringing a terrible famine to most of the country. It has been estimated that between nine and ten thousand people died of starvation in the years 1783-84, and the population fell below 40,000 again. Millions of tonnes of toxic gas were carried by the prevailing winds across Western Europe, and reached Britain by the end of June, 1783. The cloud contained sulphur dioxide and sulphuric acid which attacked the lungs of its victims, choking and killing many thousands of people throughout Western Europe. Because of the fallout of ash in the atmosphere, it led to bad Harvests throughout Europe for the next few years. Some Historians have said that this eruption is one of the contributory factors which led to the French Revolution in 1789. | |
| | |
| --- | --- |
| The picture above of volcanic craters which are between mount Hekla and Landmannalaugar, gives you an idea what the Laki craters would look like. | |
| (2) Bjorn Gudmundsson, born, 5. May. 1792, died, 18. Jan. 1870, a farmer in Rekavik bak Latur Hornstrandir Iceland. Married Porgerdur Jonsdottir, born in 1794, died, 26. Nov. 1853, Rekavik bak Latur. After Iceland recovered from the Laki eruptions, further hard times were to follow. During the Napoleonic wars until 1814 warfare and blockades made shipping to Iceland difficult and perilous, causing a severe shortage of all necessities such as salt, iron, timber, grain, fishing hooks and countless other vital things. When France eventually lost the Napoleonic wars, Denmark suffered badly because the victors agreed on punishing it for supporting Napoleon. In the settlement of 1814 as punishment Norway was taken away from Denmark and given to Sweden, therefore dissolving the union which Iceland and Norway had since 1262. Early in the 19th century Bjorn moved form Pverdal to Rekavik bak Latur to settle and establish his home and farm there. | |
Rekavik bak Latur, Bjorn Gudmundsson, family home and farm.
| | |
| --- | --- |
| (3) Jon Bjornsson, born, 22. June. 1822, died, 3. Mar. 1887, Rekavik bak Latur Hornstrandir Iceland. 19. Sept 1846, he married Silfa Jonsdottir, born, 13. April. 1818, died, 3. Mar. 1883. A farmer at Rekavik bak Latur. Jon fathered a total of eleven children. His eldest son Kristjan, married Kristin Sigurdardottir on the 28 Aug 1870, and they had a total of ten children. In 1911, their second youngest son Sigurd, emigrated to the USA. Then during the First World War in North Dakota, he was called up for military service. After the war in 1922, he got married and had 3 children. Today Sigurd's descendant's live in and around Seattle, Washington, USA. Now I will continue with my family history through Jon's second eldest son my Great Grandfather Palmi. | |
| (4) Palmi Jonsson born, 27. Sept. 1852, died, 3. Nov. 1914, Rekavik bak Latur Hornstrandir Iceland. On the 13th Sept 1877, he married Gudridur Sigurdardottir, born, 26. Feb. 1850, died, 30. Dec. 1887. Palmi was a big strong bearded man, a farmer at Rekavik bak Latur. Palmi along with his brother, bought some land in Rekavik bak Latur in 1876, and continued to live and farm there until his death in 1914. He had 3 sons Gudmundur, Solvi and Sigurgeir, and one daughter Silfa, with his first wife Gudridur. On the 25. Sept. 1899, he married his second wife Olafia Einarsdottir, born, 27. Nov. 1847, died, 11. May. 1930, Bolungarvik, Iceland. Palmi had two more children with Olafia. | |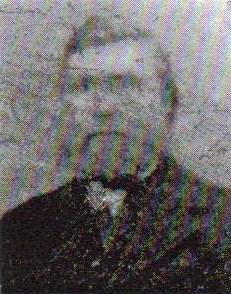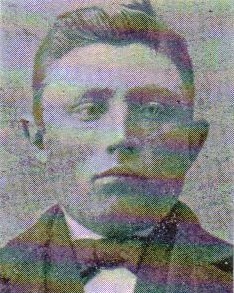 Palmi Jonsson Olafia Einarsdottir Gudmundur Palmason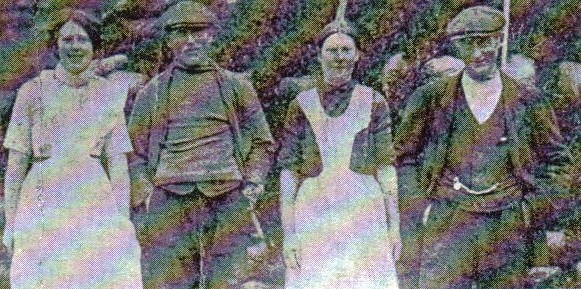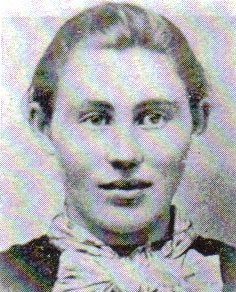 Sigurgeir, Solvi with their wife's, Gudmundina Geirmundsdottir, Soffla Petursdottir. Silfa Palmadottir
Page 3
Above a map of the West Fjords of Northern Iceland, showing you ware the family locations are.
The Hornstrandir the most northern region on Iceland's northwest coast.
| | |
| --- | --- |
| The Hornstrandir peninsula is a very mountainous area, with Fjords, Bays and Inlets, with steep vertical cliffs which are full of seabirds such as guillemots, razorbills, arctic turns, and puffins nesting on the cliff ledges during the summer months. And along shores in the fjords, bays and inlets you would also find seals bathing and nestling in among the rocks. Field mice are common in the area, but foxes are the prevailing mammals. From October through the winter months until June the whole peninsula is snowed in, and it has been known, during the winter, that polar bears have wandered over from Greenland. Despite living on the edge of civilisation the hunting possibilities attracted many settlers of royal origin. The "most noble in Iceland" to the Hornstrandir, according to the Saga's. Also the fjords bays and inlets had ideal grazing areas close to the shore for farm animals, and drift wood washed ashore from Siberia and Canada, which the settlers would use for constructing houses, fences, and making furniture. At the beginning of the 20th century there were three fishing villages, of Hesteyri, latrum, Seabol, and Farms on the Hornstrandir. The main industry was the salt fish market, but then during the depression years of the 1930's the salt fish markets collapsed, then in the 1940's the Herring station at Hesteyri closed, and because of no work people moved away to Isafjordur and other places in Iceland. There were only a few roads on the Hornstrandir, and it was not possible to get there by car, so the only form of transport on the Hornstrandir was by horse or boat. By 1952 the whole of the Hornstrandir peninsula had become depopulated when the last people moved away. In 1975, the Hornstrandir area has been made into a nature reserve. The Environment and Food Agency is now responsible for the reserve. Today some of the houses owned by the people who lived on the Hornstrandir, are used in the summer month's as summer houses, and some open them up as cafés and places to stay for tourists. | |
| | |
Page 4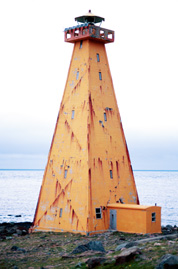 My Grandfather Gudmunder Palmason Straumnesvita Lighthouse
| | |
| --- | --- |
| (5) Gudmundur Palmason, born, 28. Jan. 1878, Rekavik bak Latur, Hornstrandir, Iceland, died, 21. Feb 1951, Sudavik, Isafjardardjupi, Iceland. Occupation, farmer and lighthouse keeper of Straumnesvita. 30. Oct. 1899, he married Ketilridur Thorkelsdottir, born, 18. Aug. 1875, died, 18. Nov. 1925, Iceland. Gudmundur along with his brothers, Sigurgeir, and Solvi, worked on his father's farm at Rekavik bak Latur until 1905, then on a farm in Latrum until 1910, he then returned to Rekavik bak Latur as a farmer. In 1914 Gudmundur along with his brother Solvi took over the Estate, after the death of their father Palmi, and continued to farm there until 1931, and Latrum from 1931-1934, he then returned as farmer for the second time to Rekavik bak Latur. In 1937, he handed the job as farmer over to his son Palmi, who continued to farm there until 1947. Gudmunder became father to 18 children from 1899-1933. He had 14 with his wife Ketilridur, she was a very humble and hard working wife and mother. She used to make clothes for all the family with material that she had woven herself, or brought from the store in Latrum. After she died in 1925, Gudmundur employed a house keeper, Bjarneyjar Andresdottir, and had four more children with her. In 1922, Gudmundur was appointed lighthouse keeper of the newly built Straumnesvita lighthouse which stands at the foot of Staumnes peninsula. The lighthouse that Gudmundur used to keep, helps ships to navigate around the Hornstrandir, which has some of the most dangerously rugged coast lines in the world, with mountains and steep cliffs up to 1700ft high. The picture above of Gudmundur was taken in Hull Yorkshire England, early in the 20th century, it was properly during his stay in Hull that Gudmundur learnt English. He also had an English friend named Byron, a ships captain, who on occasion used to visit Gudmundur at Rekavik bak Latur. In 1947, Gudmundur with his family left Rekavik bak Latur, and the Hornstrandir, and moved to Sudavik in Alftafjordur, Isafjardardjupi, where he lived until his death in 1951. | |
| Gudmundur Palmason's children with Ketilridur | |
| (1) Sigurdur Gudmundsson, born, 27. Aug 1899 died, 1. April. 1900. (2) Gudridur Palina Gudmundsdottir, born, 30. July 1900, died, 16. July 1921. (3) Messiana Gudmundsdottir, born, 11. Nov 1901, died, 11. Dec 1973. (4) Maria Gudmundsdottir, born, 7. Mar 1903, died, 24. April 1989. (5) Porkell Ingimar Gudmundsson, born, 26. Mar 1904, died, 24. July 1990. (6) Halldora Gudmundsdottir, born, 30. May 1906, died, 6. Dec 1991. (7) Stefan Gudmundsson, born, 31. May 1906, died, 6. June 1995.(8) Palmi Olafur Gudmundsson, born. 11. Aug 1907, died, 10. Oct 1964. (9) Svava Gudmundsdottir, born, 7. Jan 1909, died, 19. Oct 1940. (10) karlotta Gudmundsdottir, born, 24. April 1910, died, 16. Feb 1982. (11) Borgar Gunnar Gudmundsson, born, 2. Sept 1911, died, 26. Nov 1985. (12) Hrolfur Gudmundsson, born, 30. Oct 1912, died, 16. May 1943. (13) Fridgeir Gudmundsson, born, 21. July 1916, died, 6. June 2001. (14) Asa Byron Gudmundsdottir, born, 27. Oct 1917, died, 24. Jan 1994. | |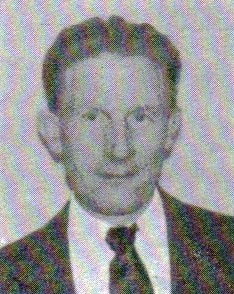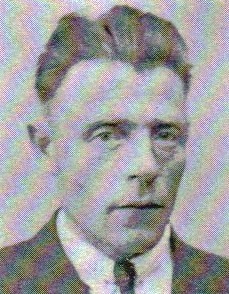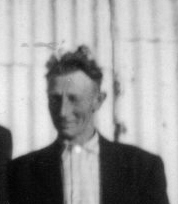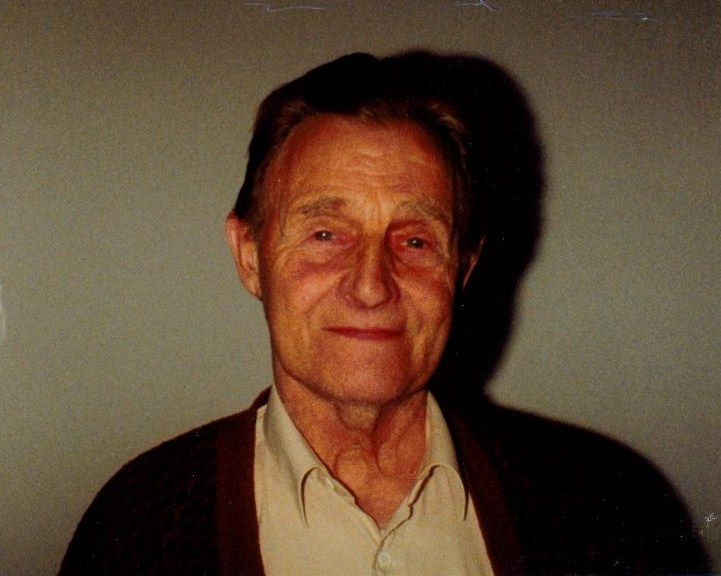 Palmi Gudmundssson Stefan Gudmundsson Borgar Gudmundsson Fridgeir Gudmundsson
Gudmundur Palmason's children with Bjarneyjar
| | |
| --- | --- |
| (15) Ingibjorg Ketilridur Gudmundsdottir, born, 17. June 1928. (16) Stella Gudmundsdottir, born, 27. May 1930, died 27. July 2007. (17) Gudny Maria Sigridur Gudmundsdottir, born, 18. June 1932. (18) Magnus Porberg Gudmundsson, born, 23. Sept 1933. | |
| | |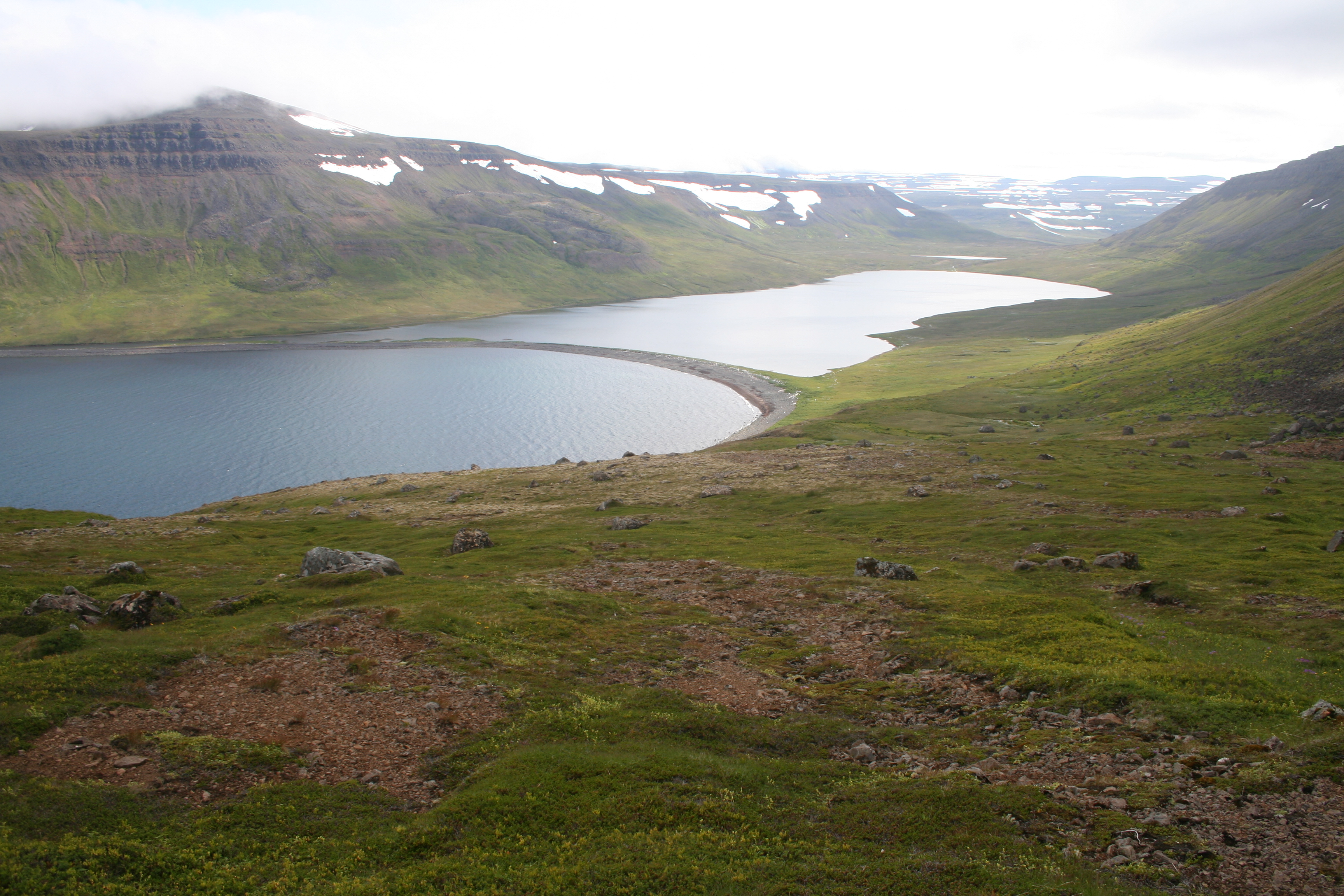 Above: Two photo's of Rekavik bak latur, the left picture taken on top of straumnes, the right, taken in the fjord.
| | |
| --- | --- |
| Rekavik bak Latur, as you can see in the picture above the fjord had very steep mountains each side of it, and with two lakes at the head of the fjord. The first and largest lake is separated by a shingled beach causeway, the second and smallest lake has a strip of land separating it from the largest lake. It was an hours journey on horse back from Rekavik bak Latur, to the nearest village of Latrum, once there my Grandparents would visit the stores to stock up with supplies, and it was also here that the children including my mother went to school. For travelling to and from the Hornstrandir, there was regular boat services from Latrum, Seabol and Hesteyri to Isafjordur, Bolungavik and then from Isafjordur, there were boat services to the capital Reykjavik, and other parts of the country. | |
| | |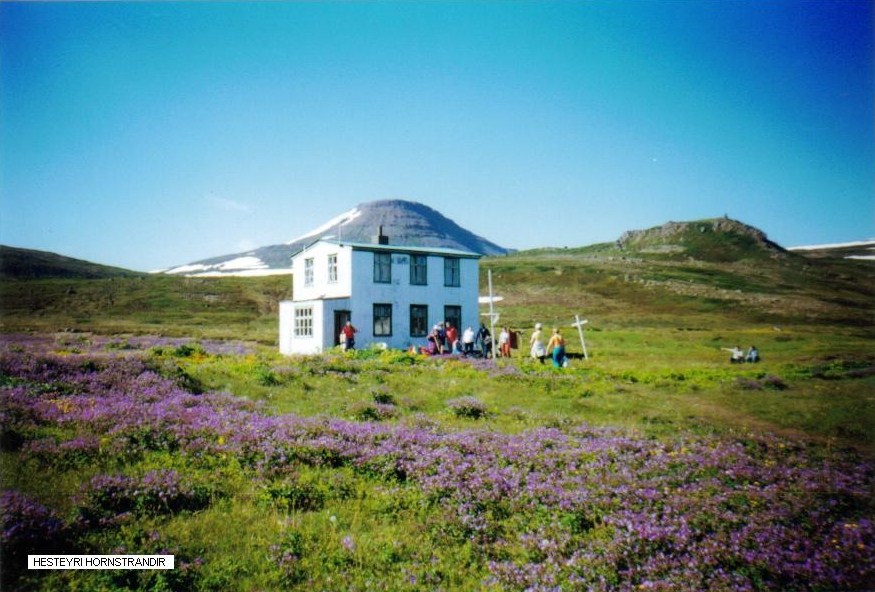 Above: The village of Latrum in Adalvik Bay The doctor's house, Hesteyri
Page 6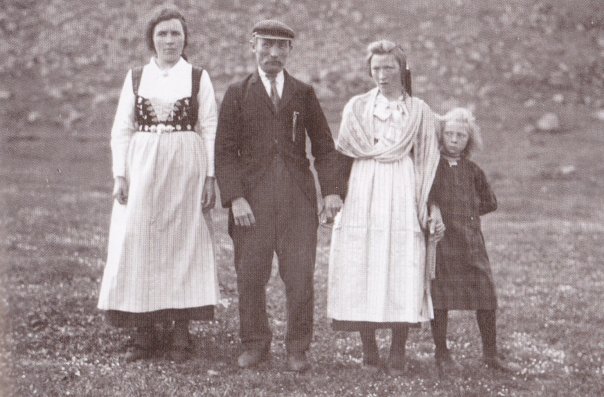 | | |
| --- | --- |
| Above: Photo taken in 1927, Bjarney Andresdottir, Gudmundur Palmason, Maria Gudmundsdottir & Asa Byron Gudmundsdottir, my mother when she was about 10 years old. | |
| | |
| | |
| --- | --- |
| Above: Isafjordur. In about 1933, my mother Asa left the family home in Rekavik bak Latur, and moved to Isafjordur and found a job and continued to live there until just before WW2, she then moved to Reykjavik. | |
| | |
The British Occupation of Iceland in 1940
| | |
| --- | --- |
| After the outbreak of World War 2, Iceland due to its location in the middle of the North Atlantic, was of great strategic importance because of the threat to the shipping convoys between Britain and the United States. Fearing that the Germans would establish military bases in Iceland, the British decided to move first, sending a large force to occupy Iceland. | |
| Troops landed in Reykjavik early in the morning of May 10, 1940, and took full control of the country in a very short time. The Icelandic government protested strongly against this violation of the nation's neutrality, but there was little more that an unarmed country could do. The prime minister broadcast an address to the Icelandic people to keep calm and regard the British soldiers as guests in their country and treat them accordingly. The British , for their part, declared they would not mingle in Icelandic affairs and would leave as soon as they could. The arrival of the British troops wrought a rapid, radical and irreversible change upon life in Iceland. Commerce boomed, and work was available for virtually everybody constructing barracks and other buildings, roads, airfields and other facilities for the forces. The great demand for manpower caused wages to rise, unemployment disappeared almost overnight, and living standards rose. Most of the troops were based in Reykjavik and the south, there was also a considerable number in the north in and around Akureyri and in the east and western part of the country. To lighten the war burden on the British, the Americans took over the defence of Iceland in the summer of 1941. Iceland agreed on condition that the Americans withdrew all their forces as soon as the war was over, acknowledging the independence of Iceland in all respects. By the summer of 1942 the last units of the British army had withdrawn from Iceland, but the R.A.F. bases at Reykjavik and Akureyri remained in Iceland until August 1946. | |
THE REPUBLIC OF ICELAND
| | |
| --- | --- |
| The dream of the Icelandic people about full freedom and independence from Denmark, was realized under the shadow of World War 2. At a solemn meeting on June 16, the Althing (Icelandic Government) concluded that the union treaty with Denmark was revoked and that a new constitution of the Republic of Iceland should take effect on 17. June. 1944. A crowd estimated at 25,000 gathered at the old parliament site of Thingvellir, to witness the Proclamation of the Republic of Iceland. | |
| | |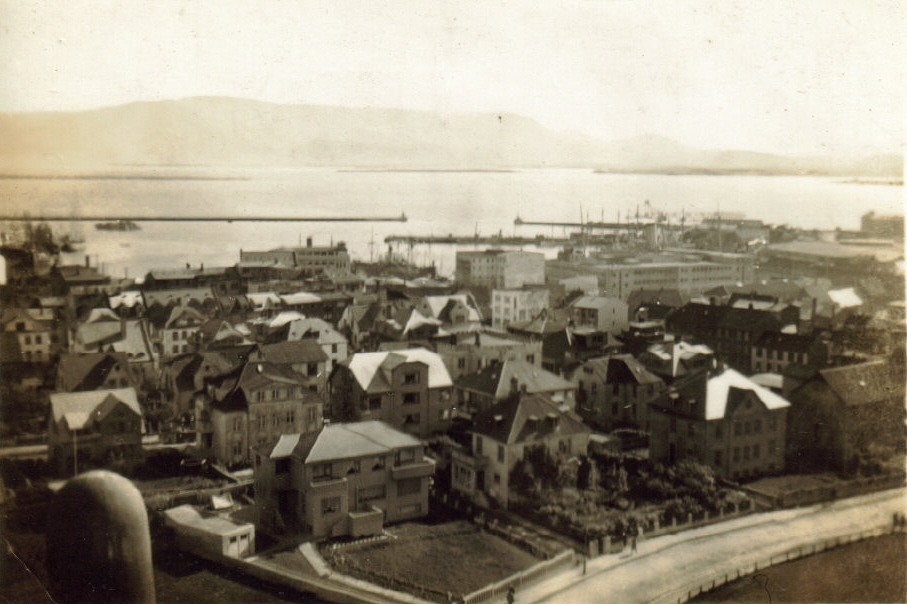 Above: A photo of Reykjavik and the harbour, with Mount Esja in the background, taken during the summer of 1946.
| | |
| --- | --- |
| (6) Asa Byron Gudmundsdottir, born, 27. Oct. 1917, at Rekavik bak Latur Hornstrandir Iceland, died, 24. Jan. 1994, Bishops Stortford England. Asa was born during The First World War, at the time when Iceland had widespread difficulties to contend with. Contact with Denmark was limited by military activity, and early in 1917 the Germans began unrestricted submarine warfare, causing serious problems for ships to and from Iceland and sinking some of them. Goods became scarce as a result, bringing food shortages and forcing Iceland to introduce widespread rationing. Then, the very severe winter of 1917-1918, which was one of the coldest on record. The cold weather was also followed by drift ice which blocked the coasts and caused extensive crop failures and damage to pastures. In the autumn 1918 there was a gigantic volcanic eruption of the volcano Katla, also causing damage to farming land in many parts of the country. About the same time the Spanish influenza epidemic swept through Iceland, causing many fatalities. Despite all the terrible problems Asa and her family came through it unscathed. Sadly in 1925, when Asa was only 8 years old, her mother Ketilridur, who she dearly loved died. | |
| | |
ASA LEAVES HOME
| | |
| --- | --- |
| In about 1933, age 15, she left Rekavik bak Latur the family home to live in Isafjordur, and took a job as a house keeper for a dentist who's wife was disabled. One morning the dentist died of a heart attack while shaving. After the death of her husband, the dentist wife decide to move to Reykjavik to be close to relatives, and Asa went with her. By the outbreak of World War 2, Asa had move in to an apartment in Asvallagata, Reykjavik, with her sister Karlotta. They both found jobs as waitresses serving the British and American military servicemen based in Reykjavik. On the 19th Dec 1945, at a dance in Reykjavik, she meet Philip William Pearce, born, 26. Nov. 1918, died, 25. Jan. 1993, Harlow Essex, he was serving in the R.A.F. Two months earlier he arrived in Reykjavik, on board a Sunderland flying boat. He was based at RAF Reykjavik from Oct 1945 until Aug 1946, preparing the RAF's withdrawal from Iceland. On the 15th June 1946, they got married in Reykjavik. Then two months later in (August) they left Iceland for England, to settle in Bishops Stortford. In 1947, Philip after completing his war service was demob from the RAF and soon found employment as a Bus driver. They then moved into a house in Castle Street. In 1950 their first son Michael was born, then two years later their daughter Diana was born. In 1953, they moved to a new house in Coronation Road, and the following year their second son Brian was born. In 1991 their only grandchild Rachel was born. | |
| | |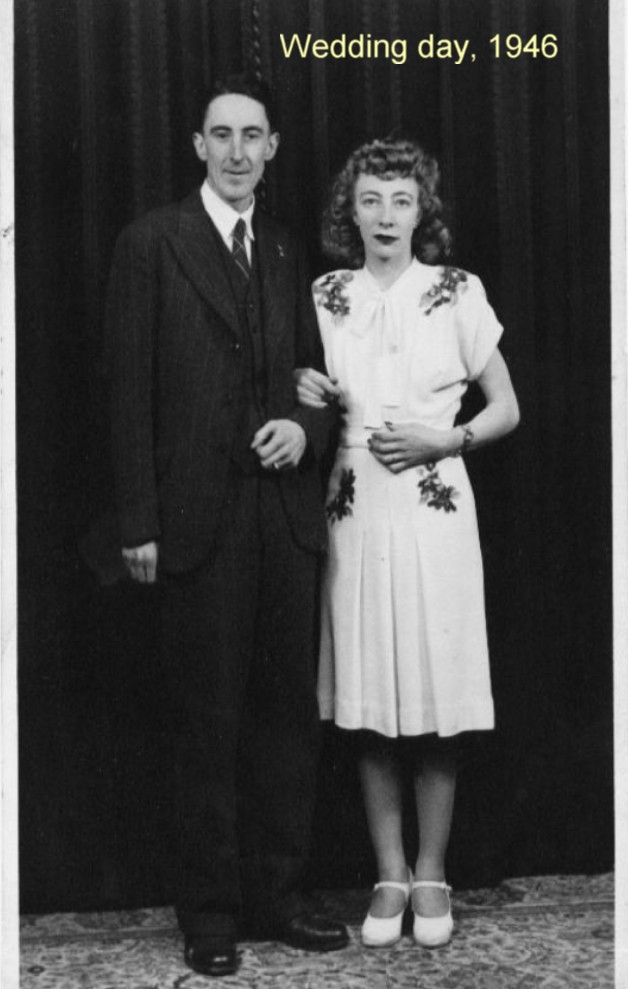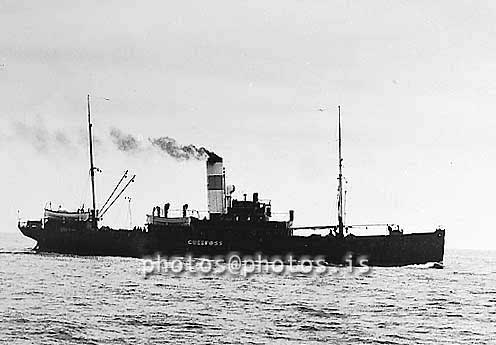 | | |
| --- | --- |
| Above: photo of my parents wedding day in Reykjavik, and the Gullfoss which sailed from Reykjavik Iceland to Edinburgh Scotland, on their way to England in August 1946. | |
| (7) Michael Philip Pearce, born, 20. July. 1950, Bishops Stortford Hertfordshire England. Occupation Painter & decorator, still living in Bishops Stortford. | |
| Diana Asa Svava Pearce, born, 7. July. 1952, Bishops Stortford Hertfordshire England, died, 17. June. 1997. Harlow Essex. Married John Wheeler, born. 16. April. 1947. Southwark London. She was an Electronics assembler, but sadly died of cancer in 1997. | |
| Brian Robert Pearce, born, 9. May. 1954, Bishops Stortford Hertfordshire England. Married Paula , born, 4. May. 1966 Newcastle upon Tyne. He is also known as Buskerbrian. | |
| (8) Rachel , born, 7. Mar. 1991, Harlow Essex. | |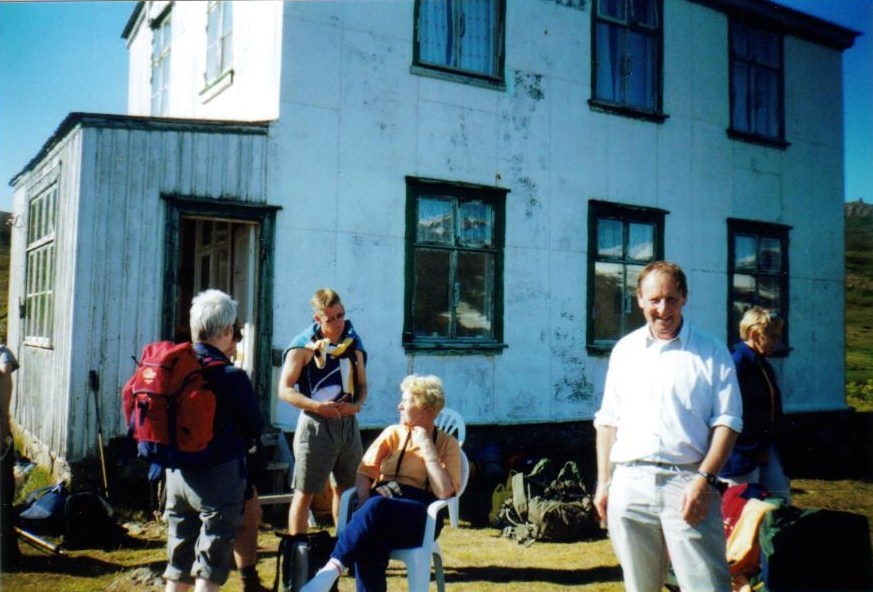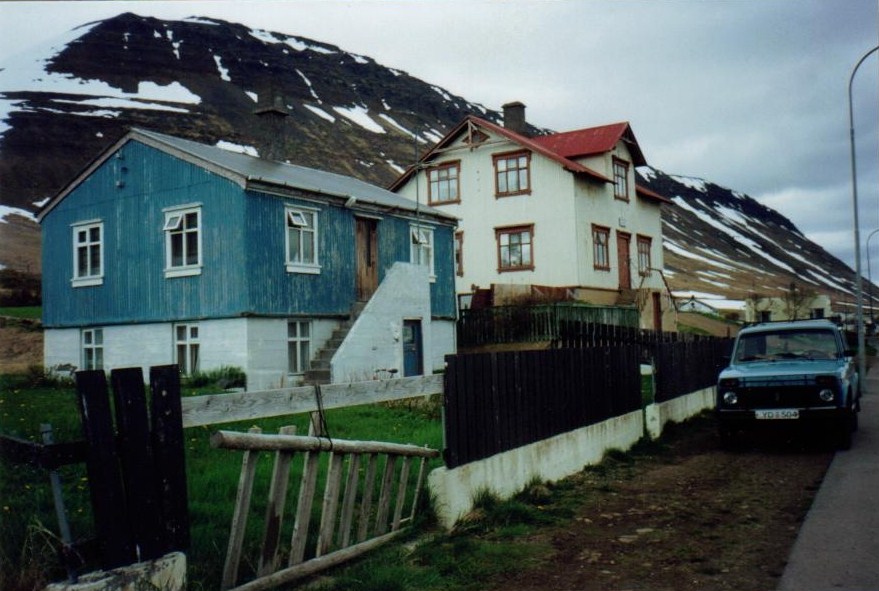 Above: Standing outside the old doctors house in Hesteryi Above: The old family house, which was moved to Sudavik from
Rekavik bak Latur in 1948.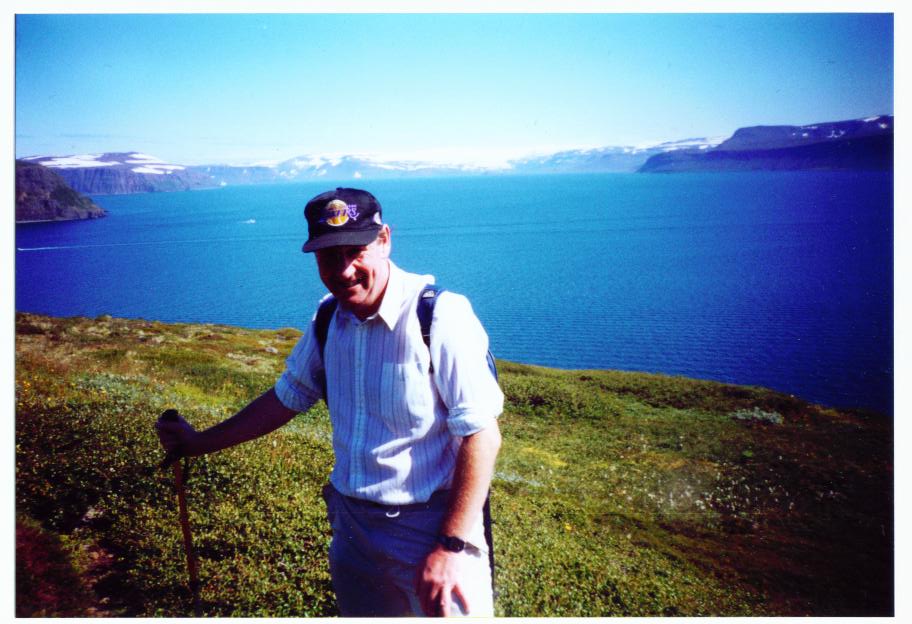 This is a picture of me walking from Seabol to Hesteryi, Hornstrandir, Iceland, in 2000.
THE GENEALOGY IS BY ORG aettfraedipjonustan ehf. REYKJAVIK ICELAND. www.simmet.is/org
THE HISTORICAL IMFORMATION HAS BEEN RESEACHED BY MICHAEL PHILIP PEARCE.
THE END